Stefan Koopmanschap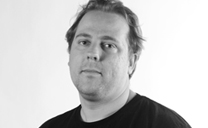 Stefan Koopmanschap is a PHP developer, consultant and trainer. He is a community person and is active in the Dutch PHP community by being part of the PFZ.nl event team as well as in the symfony community as Community Manager amongst other things. Stefan has a wide history in Open Source, having been Support Team Leader for phpBB, documentation translator for Zend Framework and now symfony advocate in The Netherlands and also online. Also, Stefan was co-founder of the Dutch PHP usergroup which later merged with phpBelgium to form PHPBenelux, where he was secretary.
---
Catching Opportunities with Open Source
Nowadays almost every developer is using from Open Source Software in some way, however just few are actively involved. Releasing Open Source seems to be affordable only to students and others who seem to have too much time on their hands. You can not possibly be deeply involved. Or can you? In this session you will learn how Open Source engagement can be valuable for you and your job and how your employer can greatly benefit as well. See how embracing the Open Source philosophy can increase your knowledge and reputation, how it can help you to save your company time and money, how it can attract new employees as well as get you that exciting job. ..and of course: how Open Source will make you love what you're doing even more.